Enroll Now and Save 20% on Summer Music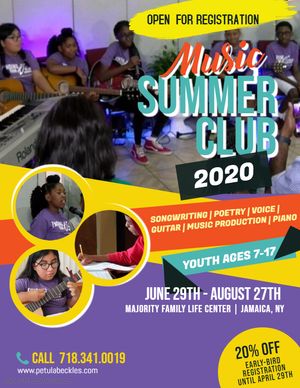 SAVE 20% ON EARLY REGISTRATION

Make music a priority for your child this Summer and save by registering them for Petula Beckles' Finding Your Voice Summer Music Club 2020. The popular Annual summer event serves up cutting edge techniques in it's courses in Songwriting, Poetry, Voice, Guitar, and new this year, Piano and Music Production. Save 20% when you enroll by April 29.
Save an additional 5% when you refer a friend. Both you and your friend will receive a 5% discount when they sign up. That's more than $450 worth of savings! To receive early enrollment pricing, register and pay in full by 10 PM ET on April 29.
To ​​​​​learn more, contact us at 718.341.0019